Prepared Screen is series started in 2012 after the interest on the growing influence of technology on our actions, emotions and forms of collective organization. Between painting, photography, video and objects, the works in this series navigate between low and high technology to question the status of the image as well as explore the impact of cybernetics on contemporary human experience and the digital biopolitical structures that surround it at a time marked by continuous crisis.
Exhaustion of Deictics
video-object
Slideshow of 42 images appropriated from the FTP server of USGS (United States Geological Survey) shown looped on a broken LCD screen
50×70 cm
unique
2012
Monochrome
video-installation
silent HD video (11'42") and polarizer film on acrylic
variable dimensions
edition of 5 + 1 AP
2012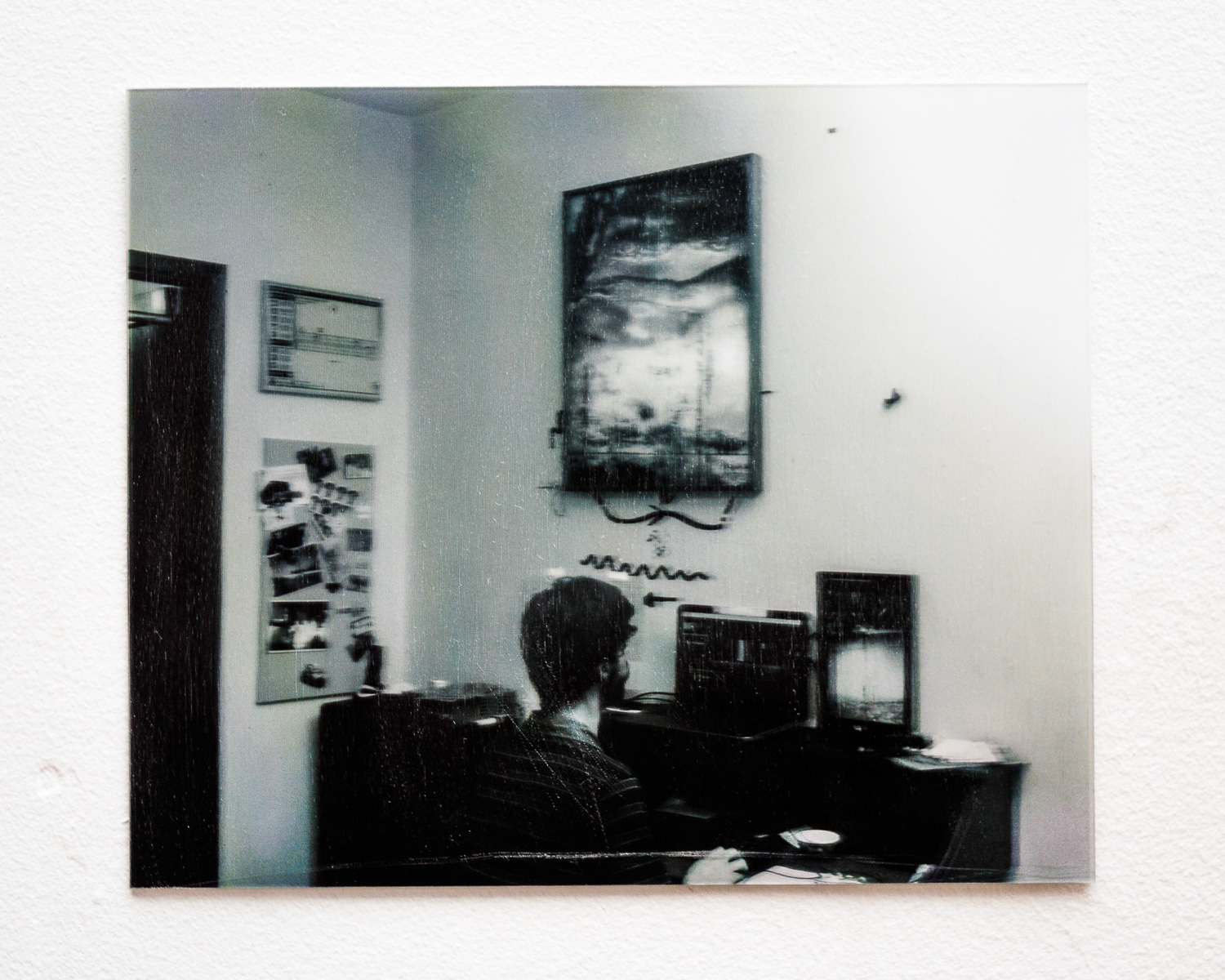 End User
lenticular print
20×24 cm
edition of 5 + 1 AP
2016
The set Acceptable Risk is created from the appropriation of frames from surveillance videos documenting the explosion of ATMs.
inkjet prints on Baryta paper
29,7×42 cm
edition of 5 + 1 PA
2016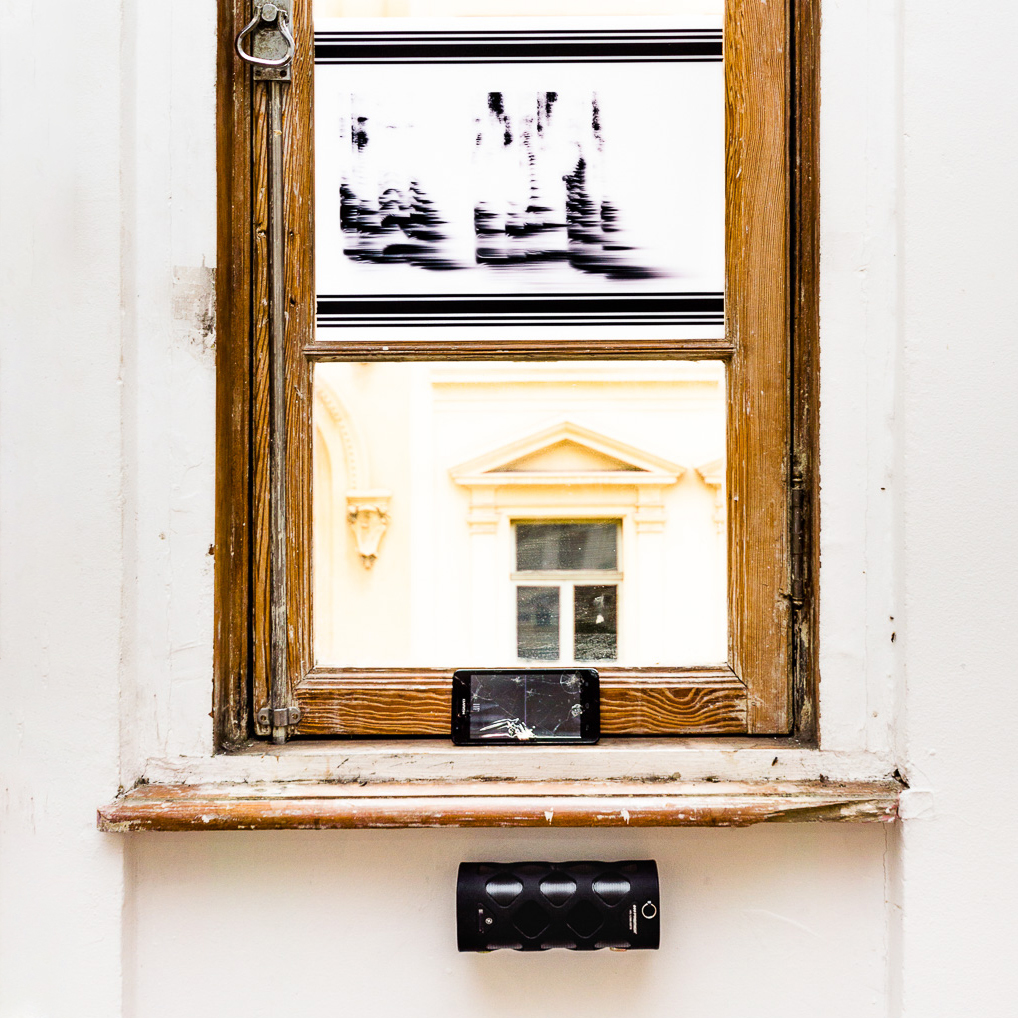 Ok Google: Principia Discordia
sound installation with spectrogram UV print, software, mobile phone, and portable speaker
variable dimensions
edition of 5 + 1 AP
2016
Brazilian Society
installation with slide projector, projector screen, the book Sociedade Brasileira (1970), and steel chain
variable dimensions
unique
2016
The set No Repair presents an archeology of inappropriate disposal of broken cell phone screens. Like the displays used by repair shops in the Santa Efigênia region, in downtown São Paulo, this accumulation reveals a contrast between scarcity and abundance. Knowing that electronic printed circuits are made of rare minerals, No Repair discusses an ecological problem after a ready-made artistic gesture.
cardboard, adhesive tape, and broken cell phone screens
unique
2018
Faucet (2023) is a set of interactive sculptures, through which cellulose elements are placed on top of a television that emits white light. Polarizing filters are made available so that visitors can interact with these materials in a demonstration of cross-polarization, an optical phenomenon that occurs when the direction of the light's electric field changes when interacting with certain surfaces. This technique is used in science of materials, geology, biology, and forensic photography to study minerals, crystals, and other kinds of samples. Whenever a Faucet is on view, photographic records are made documenting the public's interaction with the work, which are then minted as semi-fungible tokens with the ERC-1155 standard and can be collected for free.
Faucet #1
32-inch TV, cellulose cut-outs, polarizing filters, smart contracts and semi-fungible tokens
blockchain: Ethereum
contract address: 0xf4a007c9f55f2a619002397338091e6d3f3f3453
tokenID: 1
token standard: ERC-1155
variable Dimensions
Unique, with free-to-mint open editions
2023
▓
from Faucet #1
blockchain: Ethereum
contract address: 0xf4a007c9f55f2a619002397338091e6d3f3f3453
tokenID: 2
token standard: ERC-1155
free-to-mint open edition
2023
⚫
from Faucet #1
blockchain: Ethereum
contract address: 0xf4a007c9f55f2a619002397338091e6d3f3f3453
tokenID: 3
token standard: ERC-1155
free-to-mint open edition
2023
◢
from Faucet #1
blockchain: Ethereum
contract address: 0xf4a007c9f55f2a619002397338091e6d3f3f3453
tokenID: 4
token standard: ERC-1155
free-to-mint open edition
2023